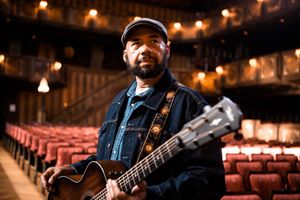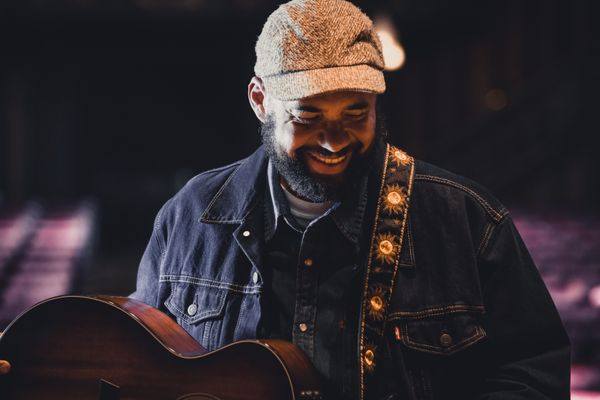 Listening to Joey McGee's The Acoustic Highway: Love, Loss, and Other Stories, it's hard not to notice the striking quality of his voice: It's warm. Pure. Honest. His tender baritone draws us in and centers our focus as he examines aspects of humanity's most elemental force: Desire. 
McGee understands what we all crave is connection — whether physical, emotional, spiritual or intellectual. On this album, his sixth, he explores the roads we travel to find those connections, the pain we endure when they end, and the hope that allows us to keep searching for new ones.
The album was designed to evoke the kind of connection that occurs in places that, under the right circumstances, feel downright holy — the intimate listening rooms where songwriters bare their souls to people who can't imagine being anywhere else in those moments. 

"Some of my most engaging experiences as a performer have been in settings where it's just me, my guitar and the audience," McGee says. "I wanted to capture that magic and intimacy in this recording."
Several of these tracks appeared on earlier McGee albums, but this time, he's distilled them down to their simplest — and most powerful — acoustic soul-folk form, recording them live in the studio, in single takes.
"I had Patty Griffin's cover of Bruce Springsteen's 'Stolen Car' in mind when I recorded," McGee says. "There's minimal accompaniment, giving it a somber power and purity."
You can hear those qualities in his delivery of Guy Clark's "The Cape" and Ben Harper's "Diamonds on the Inside." He also covers Townes Van Zandt and Lyle Lovett, building on Americana tradition by paying respect to those who came before.
McGee, a self-defined "Southern Creole-Cajun" with recently discovered Scotch-Irish DNA, comes from a place where respect for musical forebears is practically ingrained: New Orleans, a city so imbued with soul and spirituality, even its football team is named for All Saints Day (though McGee, now living in Bryan, Texas, previously lived in Pittsburgh — and still swears his gridiron allegiance to the Steelers).
"I started this project just before the pandemic," McGee explains. "With all that we went through at that time — the fear, isolation, fractions and anger — releasing this album feels good, and it feels timely. As a society, we were called to pull back the layers of our living and examine them a bit closer. We're still dealing with the fallout, but hopefully, we are better for it."
And if not, maybe we can get there — if we keep reminding ourselves how much connections matter, and how much stronger we are when we make them.  – Lynne Margolis